$39.99 Magellan RM2120SGLUC Roadmate 2120T-LM ($90 Off) Free Shipping 5/9 ends 5/15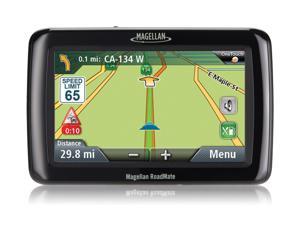 $90 Off Magellan RM2120SGLUC Roadmate 2120T-LM – $39.99 + Free Shipping at Newegg Marketplace, beg 5/9 ends 5/15
The Magellan RoadMate 2120T-LM packs the most useful features into an affordable package. It starts with a wide 4.3″ screen making it easier to see your map and lifetime maps updates to ensure that the map you see is the latest available.
Avoid time sapping traffic with Magellan's lifetime traffic with no subscriptions fees. Your RM2120T-LM will constantly monitor the traffic broadcasts for notification of an incident on your route. If there is one then you are notified and given the choice to go around or through the traffic delay. What the traffic incident is and how much of a delay it causes are just two of the pieces of information you get to make an informed decision.
Make your Magellan RoadMate as individual as you are. Personalize your travel experience with OneTouch™ icons of your favorite places and searches. More than just a quick address book, the OneTouch™ feature allows you to save a search. Save the brand name of your favorite coffee shop, restaurant, gas station, or bank and touch the customized icon to search for the nearest storefront where ever you travel!
We all face that time where things go wrong. Magellan has teamed up with the most trusted name in roadside assistance – AAA – to help should you find yourself broken down on the side of the road. The Magellan RoadMate 2120T-LM comes through with it's specialized location screen. With a touch of a button your location is displayed in a way that you can direct help to come find you. More than that, the AAA roadside assistance phone number is displayed so you know who to call when the time comes!
The RoadMate navigation experience is both intuitive and robust. Enter addresses quickly and accurately with Magellan's Quickspell. You'll see several different routing options on the map including fastest time and shortest distance. SayWhere technology speaks the street names. Preloaded maps of the 50 United States, Canada and Puerto Rico make this perfect for vacations as well. When you park ask your RoadMate to remember your car's location and the "Find Your Car" feature will guide you back.