Double Power 7″ Google-Certified 8GB Tablet – Android 4.2 OS. Multiple Colors $59.99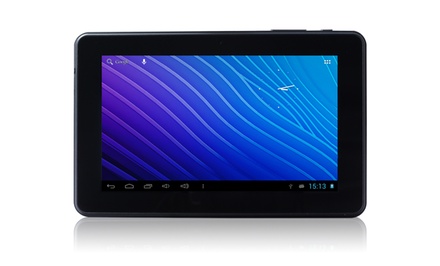 Click here – Double Power 7″ Google-Certified 8GB Tablet with Android 4.2 OS. Multiple Colors. Optional Keyboard Case from $59.99
Double Power 7″ Google-Certified Tablet with Android 4.2 OS
With a fast 1.5 GHz dual-core mobile processor, this Google-certified Android tablet can keep up as you swipe and tap the touchscreen, even if you're switching between apps. A front-facing camera makes it easy to video chat with faraway friends and the mysterious contact sending you on secret missions. The tablet also comes preloaded with a slew of popular apps, including Gmail, Google Maps, YouTube, and Facebook.
With or without keyboard case
7″ touchscreen
1024×600 resolution
Model EM63
1.5GHz dual-core mobile processor
1GB DDR3 system memory, plus 8 GB onboard storage memory and 5 GB cloud storage
Micro-SD-card slot
Front-facing camera
Runs up to five hours on a full charge
Dimensions: 7.48″x0.46″x5.04″
One-year warranty from Double Power Technology, Inc.
Full specifications and included software and apps.
In the box: Tablet, battery, and AC adapter
---
To complete your Goods order, simply purchase this Groupon and provide your name and shipping address.
Please check the Fine Print for this deal's estimated delivery timeframe. We work with thousands of brands to deliver the amazing selection you see on Groupon Goods, and this shipping window ensures we have enough time to coordinate with our suppliers to get you the products you love.