Sonya SYAF-98HF Air Fryer, fry foods without any oil $149.99 ($90 Off) Free Shipping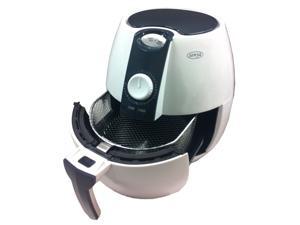 $90 Off Sonya Air Fryer, fry foods without any oil, convenient operation and making healthy food – $149.99 + Free Shipping at Newegg Marketplace, beg 5/6 ends 5/7
Sonya SYAF-98HF Air Fryer
No extra oil is needed when you season meat, and 80% fats from meat is reduced during air cooking and heating process which helps you track your diet in a healthier way, less fats, low calories, we fries food in a green and natural way. Most importantly, food is extremely crisp on the outside and Juicy on the inside, tasting sames as by conventional deep fryers, but not greasy or rich that causes body inflammation . 360°air heating circulation technology heats food evenly and avoid over-burn. You can also use the Air Fry to bake or grill meats and vegetables, a use as a heater for warming up pizzas, creamy potatoes, wings and more. It uses oil naturally from food, eliminating strong odors and smokes, so as your house is clean and non-smelly. cooking tray made of high quality material which is also dishwasher-safe.
2014 Sonya New Rapid Air Technology 360°air heating circulation and non-oil needed
Adjustable temperature setting up to 200 °C / 392 °F allows you to choose different level of tender ,juicy or crispy taste
easy control timer setting from 0 to 30 minutes with green(start working indicator) and orange light(warm and heating) signals and auto shut-off function
Dishwasher-safe cooking tray for easy and quick cleaning
2.3L cooking basket capacity
Recipe booklet with delicious traditional and exotic recipes created exclusively for the Sonya oil-free airfryer.
Sonya SYAF-98HF Air Fryer